Parents all want their children to be smart and gifted while always wonder whether or not early education would prevent the kids from growing up naturally. Especially, would learning a second language at early age slow down children's mother-tongue learning process? This is the common worry among parents who have children aged from 18 months to 8 years old. Also, this is the main topic for discussion in the conference named "Giving Wings to children's future" held by Maple Bear Canadian Kindergarten on August 06th, 2016 at th 7th Floor, Vincom Tower 2 (No. 114 Mai Hac De street, Le Dai Hanh ward, Hai Ba Trung district, Hanoi).
Our special guest at the conference was Ms. Lenna Glade – the expert of Maple Bear International educational system. With over 40 years in the educational field, she has initiated and implemented a lot of international projects as well as organized many conferences for parents in different countries. In our conference, Ms. Lenna analyzed in details about early education method, giving parents a profound view on children's process of forming and developing language; about the benefits of letting children approach second language at early age; and about the methods which can help them learn the language effectively without affecting their mother-tongue learning process. At the same time, the expert also shared practical examples to indicate the difference in children learning at Maple Bear system. From these benefits from early learning in Canadian modern education environment to education programs which are designed in accordant with each age group and integrated with variable skills to help children fully develop, both of these were proved by the expert through typical examples with vivid photos and videos.
Joining in the conference, the parents not only could listen to precious and truthful sharing from Maple Bear's education expert but also could directly ask & answer about bringing up children with her.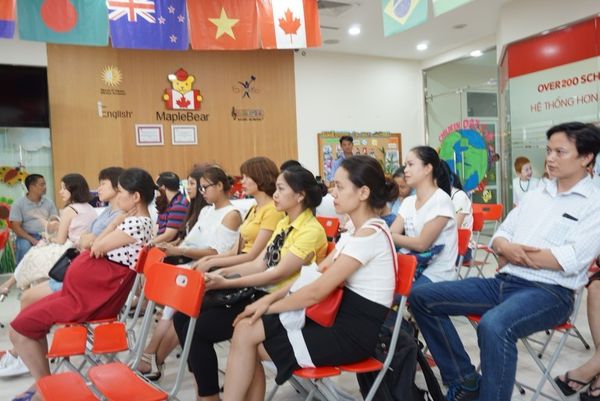 Maple Bear's "Giving Wings to children's future" conference not only brought education values but also offered scholarships to parents through a luck draw sponsored by CitySmart International Education System. This was also the deepest thank from the school's managing board to the beloved parents as well as conference guests.