On the morning of the 20/11, the teachers and students of Maple Bear Canadian Kindergarten organized a very joyful and meaningful celebration for Teacher's Day. The ceremony was simple, but full of warmth and meaningful, thanks to the talented teachers.
The opening performance was the song "Ao Dai" sang by Ms. Thanh Hang. While she was singing, the beautiful teachers showed off their colourful Ao Dai for all the students to admire.
The performance of Ms.Ha, another talented singer received a lot of cheers from all the students and teachers
A famous band of teachers performed the song "Mai truong men yeu". It was very emotional.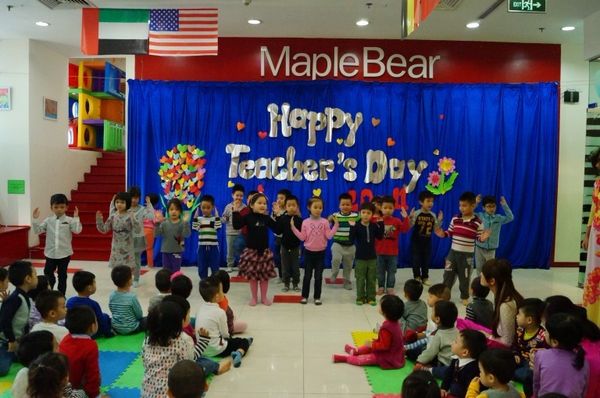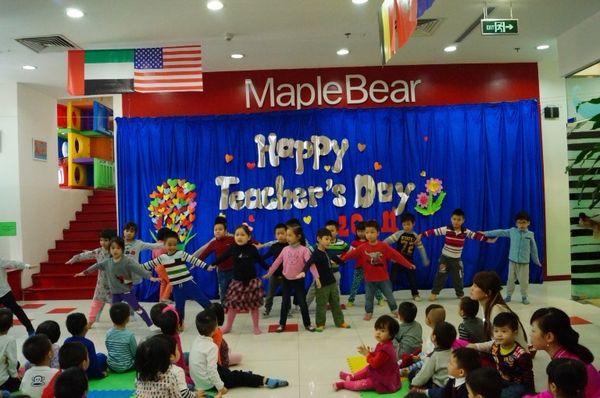 Then, the Polar Bears class danced on a funny song to honor all the schoolteachers
For this special day, the reception area at Golden Westlake and Vincom was transfigured. The atmosphere was filled with the fragrance coming from the many beautiful bouquets the teachers received for this special day.
At Vincom Ba Trieu, the teachers were very surprised and touched when one of their students Hoang Nam, an alumni from Polar Bears Class year 2013-2014 came to congratulate them on Teacher's Day. Hoang Nam is a brilliant student who thrived at Maple Bear Canadian Kindergarten. He became a confident demeanor. He has professional presentation capabilities. He plays beautifully the piano. The teachers also felt very proud to learn that Hoang Nam is currently attending Cambridge programs at Nguyen Sieu Elementary School and that he continues to study the piano intensively at the Hanoi Conservatory. DuringTeacher's Day, Hoang Nam secretly visited the school and sent wishes of success, happiness, health and offered a bouquet of beautiful flowers to all of his past teachers.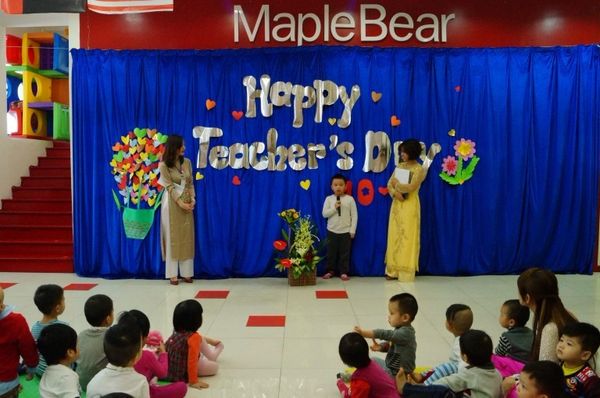 Alumni Hoang Nam confidently greeting all the teachers
The entire school board, teachers and school staff are thankful. They were touched by the demonstration of feeling from the students and parents on Teacher's Day. This is the motivation and encouragement that will always help teachers to keep trying their best for the success of their students.