The teachers at Maple Bear have recently been through a training program in September 2015 presented by a highly experienced mentor from Maple Bear Global. After flying in from Canada Beverley did not waste any time in sharing her 40 years of teaching experience with the group.
The training lasted 3 days for foreign teachers and 1 day for Vietnamese teachers and with so many topics to cover and questions and clarifications from teachers we had to work fast. However, this was not a problem as Beverley's proficiency shone through as she delivered presentations on a range of subjects.
One topic which all the teachers found particularly useful was ideas on how to present the "Read Aloud" section of the curriculum. The training method was simple, a story book was read to the teachers by Beverley and we were asked to analyze her method. Whilst investigating her way of story telling it became quite clear that all the teachers whilst having slightly different techniques could agree on what is most important when reading a story to their students. Some of things we agreed upon were – make it magical! The more magical we can make a story the more students will want to listen. This includes choosing the correct book that children can engage with, include a range of accents for different characters and the dramatic pause. In addition, we talked about how children can gain vocabulary from a read aloud and decided that vocabulary absorption can be improved by pausing the story at various points to explain some of the more difficult words. We also concluded that at the end of the story asking open questions about the book can help the students share with the rest of the class and relate information from the story. This encourages the students to put their ideas into words in English and speeds up language acquisition.
Over the training period we covered many more topics including; the fundamentals of language acquisition, the best teaching practices in Canada and how we can mirror this in our classrooms and watching different Maple Bear classrooms around the world. We also worked on our learning centers where teachers teamed up in pairs and explained how they would create a center on a variety of class topics.
We had a whole day of training with our teaching assistants to promote synergy within the classroom. It also gave us time to communicate on issues that arise within the classroom and what can be done to address them. This has resulted in better communication in the classroom and some fixed classroom procedures so behavioural management can be implemented efficiently with minimal interruption to the class.
In conclusion I have found it very beneficial to share ideas with my co-workers and draw from the massive experience of Beverley's teaching career. It has influenced our classroom approach and after the training we feel more in line with the principals of the Maple Bear education system.
Each year, Maple Bear Global sends a representative to the Maple Bear schools around the world to ensure the quality of teaching and make comments that help each grow and improve. From 6th to 10th September 2014 Maple Bear was honored to receive Mr. Don Farrow in Hanoi for quality accreditation at the school. Mr. Farrow visited each of the Maple Bear schools and met school officials from the Board of Supervisors, and members of staff including coordinators, customer care staff, foreign and Vietnamese teachers.
During his visit, he led a meeting with parents at Golden West Lake which hilghted the benefits of bilingual education, and the educational methods of Maple Bear. He also spent time visiting classes and evaluating teaching processes, and participated in the Mid-Autumn Festival Celebration- held annually in Maple Bear Vietnam. Finally, on Sept. 9, he led training sessions for the foreign teachers at Vincom.
Mr. Farrow was impressed with the success of the Maple Bear program in both campuses in Hanoi. Maple Bear Vietnam highly valued Mr. Farow's visit and was very pleased with his assessment on the global Maple Bear's view.
On January 27 to 30, Maple Bear Canadian Kindergarten in Vietnam was honored to host a visit from Mr. Rodney Briggs, President of Maple Bear Schools worldwide. Mr. Briggs is the original founder of Maple Bear schools, and since 1997, this Canadian kindergarten education system has grown to over one hundred schools worldwide.
Mr. Briggs was on a two week tour of the Maple Bear sites in China and South East Asia, and this tour included a visit to each of our schools in both HCMC and Hanoi.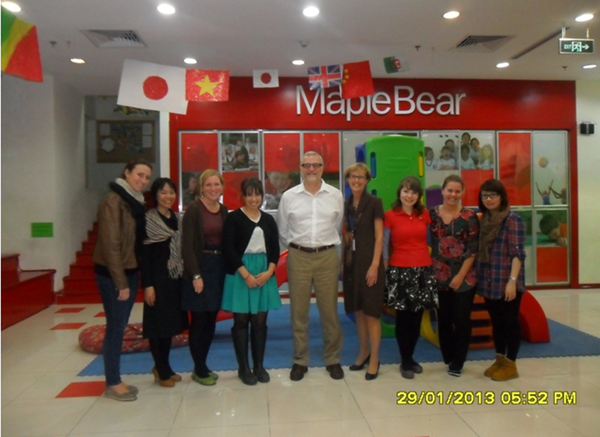 During his visit, Mr. Briggs had the opportunity to connect with all foreign staff, visit classrooms, and meet with our administrative and support teams in both cities. Mr. Briggs was very complementary of the programming that he observed in each of our schools and expressed the potential that he saw for future growth in Vietnam.
While visiting the Golden Westlake location, Mr. Briggs was interviewed by the Sharing Vietnam program.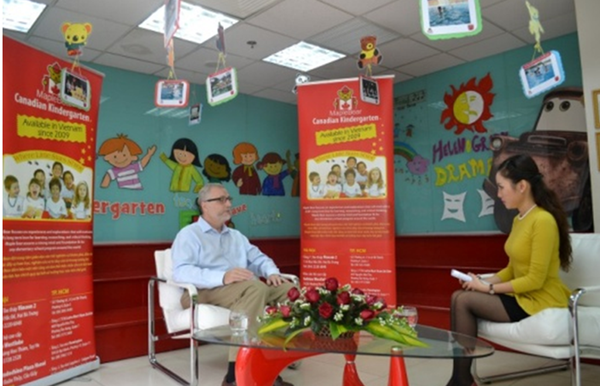 This TV segment will be shown on VTC10 channel and includes a most interesting conversation with Mr. Briggs on how Maple Bear first began. He spoke of the strengths of Canadian teaching methods, child-centered programming, and provided an excellent example of how the Maple Bear curriculum sparks curiosity in children and teaches them to ask questions, wonder, and think deeply. After the interview, Mr. Briggs visited several of the classrooms to meet teachers and see the children at work and play. This television broadcast will certainly be an interesting program for current and prospective parents to view. Parents are invited view the interview by following this link. http://www.maplebear.vn/index_no_ads.php?page=video_gallery
On December 10-14, Maple Bear Canadian Kindergarten in Hanoi was treated to a second Quality Assurance visit this year from Global Schools, Canada Representative Mr. Art Pfeffer. Mr. Art was on a two week tour of the schools in China and Seoul, and we were fortunate that he was able to include Hanoi in his schedule.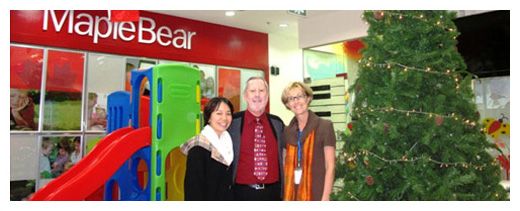 Mr. Art has had a long career of focus on early childhood learning with an additional interest in English as a Second Language, Educational Administration and Wellness programs. Mr. Pfeffer holds undergraduate degrees in Arts and Education and has done Graduate studies in Sociology, English as a Second Language and Educational Administration. He is certified as a Principal in the Manitoba Educational system. In addition to a successful career as a teacher of young children, leader of special needs support teams, student teacher supervisor and Assistant Principal in Canada, Mr. Art has done national and international presentations in the fields of English as a Second Language, Autism, Behaviour Disorders and Personal Wellness Management. His international experience has included presentations to teachers in Belize, China, Korea, Mexico and Brazil. Mr. Art has been the Assistant Director of Maple Bear Jongno Campus in Seoul, Curriculum Director for Maple Bear Korea and Maple Bear School Director in Seoul.
While in Hanoi, Mr. Art had the opportunity to visit each of our schools and meet with a broad cross section of our staff including senior managers, all Academic Coordinators, Customer Care, foreign and Vietnamese teachers and Teacher Assistants. He conducted mini Professional Development sessions for staff on positive behaviour strategies and did some work with teachers on effective methods of reading with children.
Overall, Mr. Art was impressed with all of our Maple Bear schools and the professionalism and commitment of our teaching staff. He made many positive comments on the good things he saw happening here for children. Mr. Art will be providing us with a thorough report which will help us as we develop school plans for the future growth and continuous improvement of our Maple Bear Schools
Each year, Global Maple Bear sends a representative to their Maple Bear Schools around the world to ensure quality instruction is occurring and to provide feedback for growth and improvement. During the week of October 8 to 12, Maple Bear Kindergarten in Vietnam had the pleasure of hosting Mr. Tony Griffiths for our schools' annual Quality Assurance Visit.
Mr. Griffiths is currently stationed in Seoul and is the Director for Maple Bear Global Schools in the South East Asia district. Mr. Griffiths has been an educator for over thirty years in Canada. Twenty-six of those years were spent as an administrator in a variety of schools and learning environments but his expertise lies in primary and elementary education. During his visit, Mr. Griffiths was able to share his educational knowledge and extensive experience with our teachers.
Over the span of the week, Mr. Griffiths toured each of our school sites, visited our classrooms, observed lessons, and provided valuable feedback on all aspects of our operations. He was able to meet individually with each of our foreign teachers and in Hanoi, facilitated an after school professional development session on essential learning outcomes and assessment with our foreign teachers.
Mr. Griffiths will be providing us with a detailed report of his visit in the near future; however, his initial impressions were very positive. He felt that each of the schools were operating in a professional fashion in the delivery of the Maple Bear program. He was impressed with the quality of our teachers and the level of support being provided in each of our classrooms. Here in Vietnam, we greatly appreciated his visit and the valuable feedback that he provided from the Global Maple Bear perspective.
From June 21st to 22nd, 2012, Gerald Macleod, Vice President of Maple Bear Global Schools Ltd in Canada, visited Maple Bear schools in Vietnam to evaluate the schools' operations and make any necessary improvements to help in the schools' development.
Mr. Macleod has been the Vice President of Maple Bear Global Schools Ltd since 2007 and is responsible for developing and implemeting Maple Bear's teacher education and training programs worldwide.
Before joining Maple Bear Global Schools Ltd Mr. Macleod served as School District Director of International Education in Winnipeg, Director of International Education for the province of Manitoba, and as a consultant in international education globally.
During his time in Vietnam, he visited each of the Maple Bear Vietnam campuses, attended classes and reviewed the teaching methods of the teaching methods of the teachers. On June 22, Macleod held a Maple Bear Parent meeting entitled "The Importance of Early Education," as well as answering questions from parents about Canadian Education and the Hybird of the Maple Bear Global School.
Maple Bear Canadian Kindergarten Vietnam was recently host to a special visit from our friends at Maple Bear Canadian Kindergarten Korea. This event was arranged by Global Schools as an annual quality improvement exercise. The time was divided between different locations in both Hanoi and Ho Chi Minh City. Mr. Bergan and Mrs Bergan spent nearly a week sharing their insight and experiences, and left us all with fresh ideas, renewed confidence, and an enhanced outlook of the Maple Bear tradition.
The two veteran educators spent time with our teaching staff and offered advice on implementing curriculum and specific troubleshooting issues. The teachers were given ample time to ask any questions that they had regarding Maple Bear techniques, classroom control, or early childhood pedagogy in general. In between the sessions their classes were observed while Mr. Bergan and Mrs Bergan took notes and interacted with the students. Their feedback was enormously helpful and in some cases implemented right away. Their work with the children also gave a direct example for the teachers and staff to follow when interacting with young learners.
Maple Bear Director Thu Hai and Principal Robert Wilson also had a special opportunity to work one on one with the guests concerning operational issues and quality audit. Mr. Bergan's extensive work as a superintendent in Canada has given him a wealth of knowledge concerning school operation both big and small. He gave advice on managing staff, facilities, and parent-school communication. Aileen, an operational expert in her own right, gave guidance on interschool communication and meeting education standards.
In addition, they worked with our enrolment team to discuss the appeal of Maple Bear to parents in all corners of the world. They touched on why Maple Bear works in so many different places and why people of any culture can relate to what we are doing.
We were also fortunate to have Mr. Bergan and Mrs Bergan to hold a seminar for our Korean parents in Ho Chi Minh City and explain the advantages of Maple Bear over traditional ESL. The parents were able to ask questions following the seminar, and left with a new perspective on our program.
Overall the visit was very beneficial and an encouraging encounter on both sides. The meeting demonstrated the productivity of these Global School arranged events, and highlighted the partnership of Maple Bear schools worldwide. The cooperation between our two schools was an excellent way to share experiences and work as a global family to improve the education of little Maple Bears both here and there. We will have many more opportunities like this during our operation in the coming time.
Maple Bear Kindergartens in Hanoi welcome a quality assurance visit by Mr. Farrow from November 20 to 27, 2010. Mr. Farrow had meetings with the school management board and teachers. He conducted classroom observations and gave suggestions about best practices. He also provided teacher training for Maple Bear teachers on how to work effectively with children and how to create a stimulating and safe, learning environment for children.
Mr. Farrow has over 40 years of experience as a teacher, principal, Superintendent and Director in various schools in Canada. Mr. Farrow's experience also includes international experience in Grenada, Myanmar, School Director of the Canadian International School of Egypt and Academic Director for 20 Maple Bear schools in Brazil.
With his extensive years of experience and his professional education background, we believe that Maple Bear Canadian Kindergartens, Hanoi, will benefit immensely from his visit and this will help us achieve our mission to continuously improve the quality of education and care that we give your children.
The Quality Assurance mission is a regular, independent activity required and provided by Global Schools, Canada in order to ensure that all Maple Bear Schools, world wide follow quality standards. It is also important to Global Schools that they support the schools with guidance as how to improve their operations.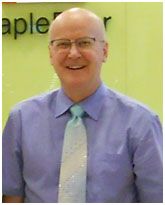 Paul Bergan has been an educator for the past 36 years. Over the course of those years, he has taught music at all grade levels, K-12, as well as extensive classroom teaching at all grade levels. Mr. Bergan also was an administrator for many years working as a principal and superintendent of schools of a large school division in Manitoba, Canada.
He received his initial education training in Minnesota, USA, and further training in Canada and the US.
Presently, Mr. Bergan is the Academic Director of Maple Bear/Cultural and Language Institute, the flagship Korean Maple Bear School, located in Seoul. At Maple Bear/CLI he works with a large teaching staff and runs the full Maple Bear Early Years and Elementary program, as well as promoting and expanding the role of the school into the centre for program development and teacher professional development for Maple Bear Korea.
Lenna Glade is the former Academic Director of Maple Bear Brazil
Lenna has been an educator for more than 40 years. She has been a teacher, a school administrator, a Department of Education coordinator and is currently a university instructor in Manitoba, Canada. For the past ten years, Lenna has initiated and implemented several international education projects in her role as Faculty Member at the University of Winnipeg. In addition to a practicum program in Thailand, Lenna has implemented a B.Ed program in Asia and a Post Baccalaureate program in Brazil.