On December 10-14, Maple Bear Canadian Kindergarten in Hanoi was treated to a second Quality Assurance visit this year from Global Schools, Canada Representative Mr. Art Pfeffer. Mr. Art was on a two week tour of the schools in China and Seoul, and we were fortunate that he was able to include Hanoi in his schedule.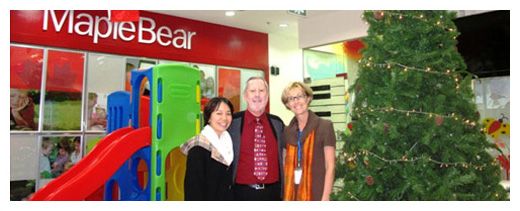 Mr. Art has had a long career of focus on early childhood learning with an additional interest in English as a Second Language, Educational Administration and Wellness programs. Mr. Pfeffer holds undergraduate degrees in Arts and Education and has done Graduate studies in Sociology, English as a Second Language and Educational Administration. He is certified as a Principal in the Manitoba Educational system. In addition to a successful career as a teacher of young children, leader of special needs support teams, student teacher supervisor and Assistant Principal in Canada, Mr. Art has done national and international presentations in the fields of English as a Second Language, Autism, Behaviour Disorders and Personal Wellness Management. His international experience has included presentations to teachers in Belize, China, Korea, Mexico and Brazil. Mr. Art has been the Assistant Director of Maple Bear Jongno Campus in Seoul, Curriculum Director for Maple Bear Korea and Maple Bear School Director in Seoul.
While in Hanoi, Mr. Art had the opportunity to visit each of our schools and meet with a broad cross section of our staff including senior managers, all Academic Coordinators, Customer Care, foreign and Vietnamese teachers and Teacher Assistants. He conducted mini Professional Development sessions for staff on positive behaviour strategies and did some work with teachers on effective methods of reading with children.
Overall, Mr. Art was impressed with all of our Maple Bear schools and the professionalism and commitment of our teaching staff. He made many positive comments on the good things he saw happening here for children. Mr. Art will be providing us with a thorough report which will help us as we develop school plans for the future growth and continuous improvement of our Maple Bear Schools