Maple Bear Global
Maple Bear Global School head Office is based in Vancouver, Canada. Presently, there are over 300 Maple Bear early childhood education and elementary schools operating worldwide in 15 countries such as Mexico, Turkey, Morocco, India, China, Bangladesh, Brazil, South Korean, Singapore, United States of America, Philippines, United Arab Emirates and Vietnam.
Maple Bear schools offer full educational programs based on the Canadian teaching methodology and curriculum developed by our own experts from ground up for pre-school, elementary, and high school.
The head office of Maple Bear Global Schools Ltd is located in Vancouver, Canada.
To learn more, visit our global website: www.maplebear.ca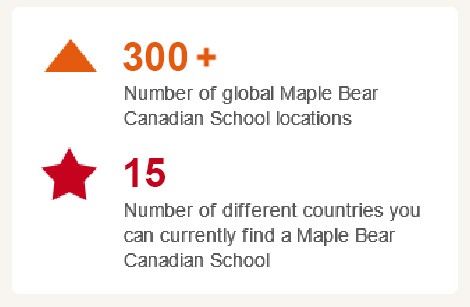 Canada http://maplebear.ca/
Việt Nam http://maplebear.vn/

Brazil http://www.maplebear.com.br/

Hàn Quốc http://maplebear.co.kr/
Mexico http://www.maplebear.com.mx/

Trung Quốc http://maplebear.ca/
Ấn Độ http://www.maplebear.in/
Maroco http://www.maplebear.inwww.maplebearmorocco.com/
Singapore http://www.maplebear.sg/
United States of America http://www.maplebeartempe.com/
Philippines https://www.maplebear.ca/philippines-locations

United Arab Emirates http://www.maplebear.ae/