PRIMARY EDUCATION PROGRAMS
The curriculum aims to help student develop fully and especially to foster the joy of learning. We believe that students will definitely succeed in learning  when they enjoy it . The program inherits and promotes the educational quintessence of Vietnam and Canada, meets the requirements of the primary education program of the Ministry of Education and Training of Vietnam and provides the best learning experience for children. . Students are fully equipped and qualified to succeed at the next level of study.
The primary  curriculum includes:
National Primary Education Program
Maple Bear English Program
Complementary educational programs: Experiential activities – Events – Extracurricular activities, Activities to develop social-emotional skills, Home reading programs, etc.
English science activities encourage children's natural curiosity, capacity for scientific investigation, and desire to learn new things and improve their life quality. Subsequently, create interest and develop students' talents and problem-solving abilities related to science and technology. This is also a stepping stone for students to have a career choice in the future.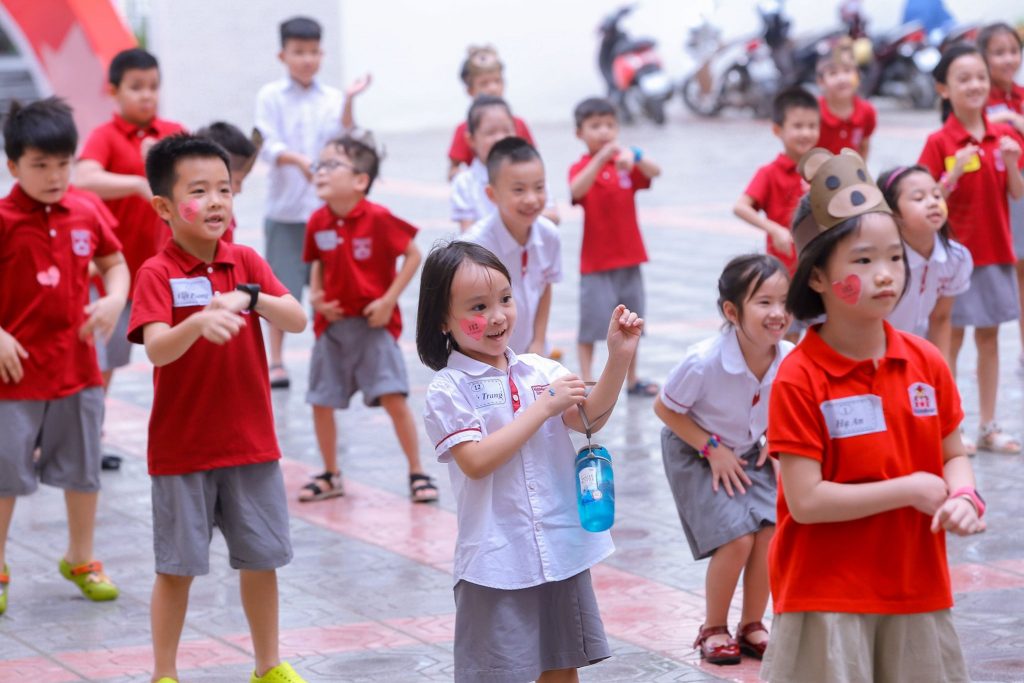 A Vietnamese National Program optimizes learning quality, meets the knowledge base required by the Ministry of Education & Training and supplements the copyrighted Maple Bear English program to help students build a solid foundation of vocabulary and grammar.
A creative, balanced curriculum that provides an effective learning experience that fosters the passion for learning. Students are equipped with a solid academic foundation along with good English language skills to help them succeed in the next level of education.
The curriculum meets the requirements of the Ministry of Education & Training program, in addition to increasing and enhancing English competence by offering a variety of practice opportunities and rich language experiences. Students are equipped with a solid academic foundation along with comprehensive English language abilities that help them adapt and succeed in any setting.
The Primary English curriculum uses the copyrighted English Program from Maple Bear Global in addition to the Ministry of Education & Training's English program to enable students' English skills to be strengthened, expanded, and improved.

The English program using additional copyright Maple Bear materials gives students the opportunity to fully develop  physically, mentally, and emotionally through the process of approaching English, Science, and Math activities.
Maple Bear's  (English Language Arts) activities provide opportunities for in depth, thought-provoking learning experiences. Students can develop natural language and higher-order thinking skills in English as their first language thanks to the prominent linguist's absorbent language learning approach.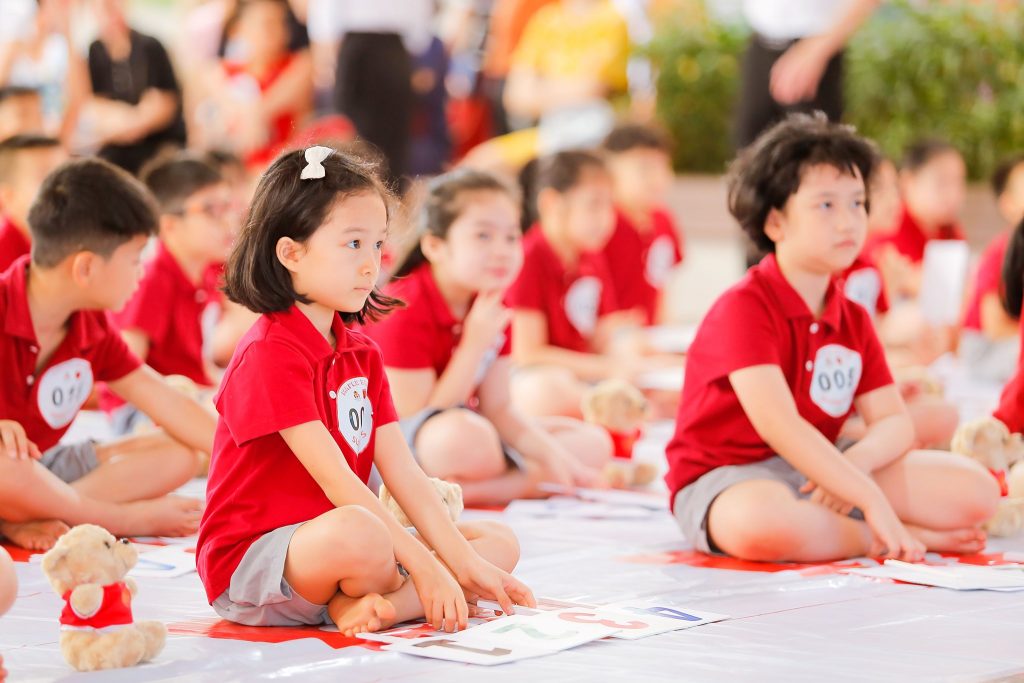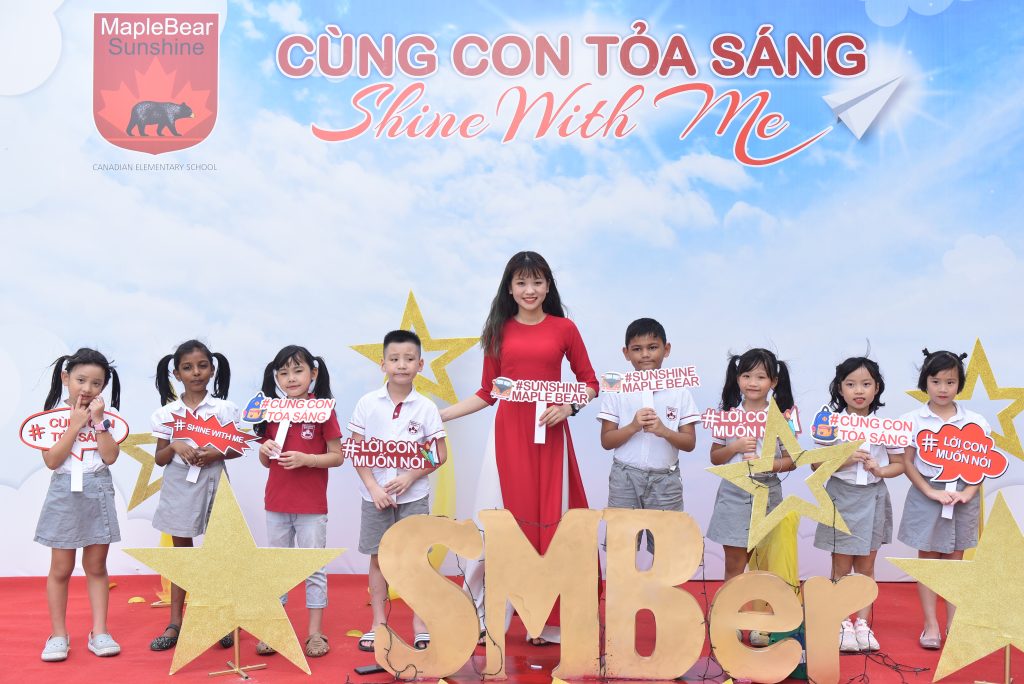 MAPLE BEAR EDUCATION PROGRAM AND METHODS
Strengths of Maple Bear Program
The program is designed to create excitement, challenge and engage students
Daily practice chances are provided through learning center activities and annually updated programs
Students are trained to read independently, take on responsibility and develop self-confidence
The strength of the program in terms of language and arithmetic
Experiential activities that are practical and meaningful for children
The program is designed to encourage children's creativity, inquiry, and curiosity
Students have the opportunity for global connection and sustainable development
Reading and philology program: through reading, writing, listening and language practice
Scientific program & Technology: help foster children's curiosity through process and design. Then students apply their knowledge to implement the project
2. Osmosis Method
Immersion method is the most effective educational method to help children learn a second language; which is used in Listening-Speaking-Reading-Writing throughout the learning process.
Why was the osmosis program chosen?

Researches shows that imersion is the ideal method for young students (from preschool to primary school)
Students can learn English and Vietnamese at the same time

How do children learn English through 5 stages of language learning?

Listen
Listen & understand
Listen, understand and speak
Listen, understand, speak and read
Listen, understand, speak, read and write

Teachers can communicate with their children through: speaking speed, repeating phrases, pausing, body language, verbal expression 
Students will experience through activities: Presenting/retelling activities done at home, singing, reading poetry/rhymes, listening to works and playing with words to help children learn naturally
The importance of bilingual education: Helping students develop in cognitive and linguistic skills.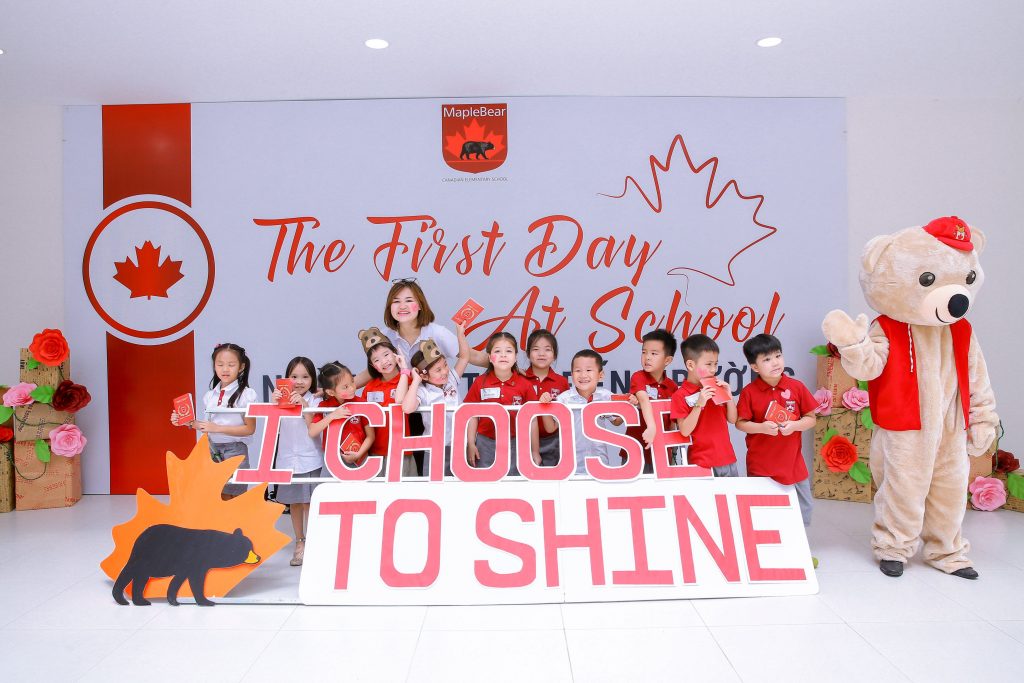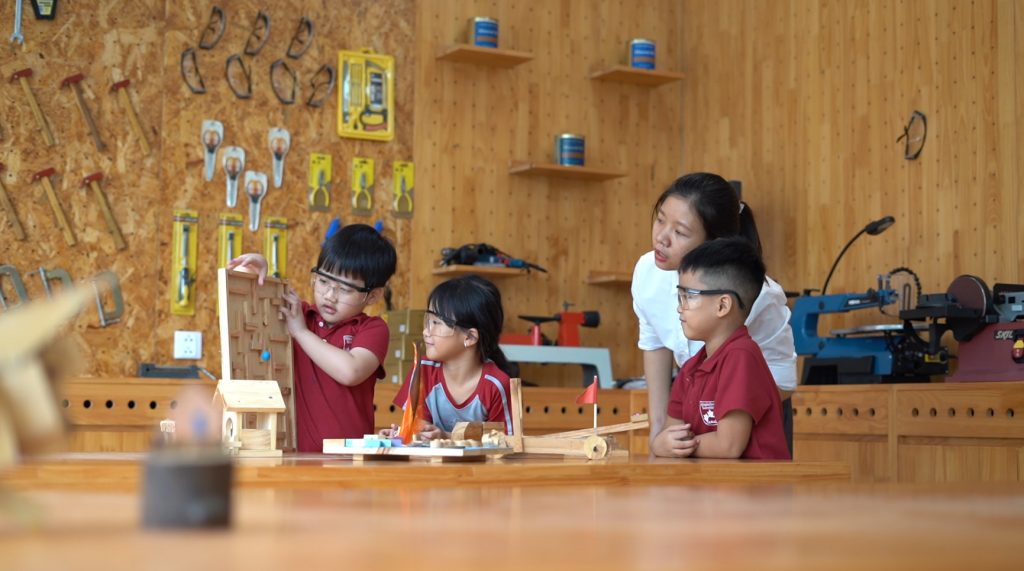 3. Evaluation & Test
Through in-class assessments, teachers observe and evaluate to prepare for the next lesson/ assessment. These results are then used as a basis for assessing learning outcomes.
For students: Developing the ability of  understanding and self-assessment skills
According to the Canadian Maple Bear method, the evaluation consists of a sequence of procedures. The assessment includes: ongoing assessment and end-of-term assessment.  The Assessment  a variety of tools and through different learning tasks and activities
Based on constructivist theory and outstanding research on teaching and learning worldwide for elementary students, Sunshine Maple Bear Elementary School values the student-centered teaching approach. Teachers are trained  and continuously updated with effective teaching methods to ensure the best learning outcomes for students.
The student-centered teaching method is implemented through:
Inquiry-based learning
Students are always proactive, self-determining and asking the question "What do I want to learn? How to learn?" From there, under the guidance and advice of teachers, students will research, discuss and draw informed conclusions.
Learning English "osmotic"
Helping students think and express themselves in a second language like their mother tongue.
Learning through projects
Students learn through hands-on, single-subject and interdisciplinary projects.
Individualized learning
Every student is different; Based on the student's understanding, teachers will develop appropriate pathways and teaching methods to maximize individual learning and development. Throughout the learning content, there are clear output standards and criteria to support students to see their own strengths to build their own learning goals and development paths.
Experiential learning
Students interact with life through experiential learning trips to draw many lessons from them.