Vietnamnet – Sunshine Maple Bear International Primary School – a new school in Tay Ho area, is considered the preeminent solution for parents with modern educational philosophies and methods.
The first international primary school in Vietnam to buy the Maple Bear copyright
With Maple Bear's program, students will enjoy the quintessence of a Canadian education. This is a program researched by leading experts for countries that teach English as a second language.
The program has been successfully implemented in more than 300 school sites in 17 countries around the world such as the United States, China, Bangladesh, Brazil, India, Korea, Vietnam, Morocco, Singapore, and the United Arab Emirates. United, Mexico, Turkey, Sri Lanka, Nepal, Kenya and the Philippines.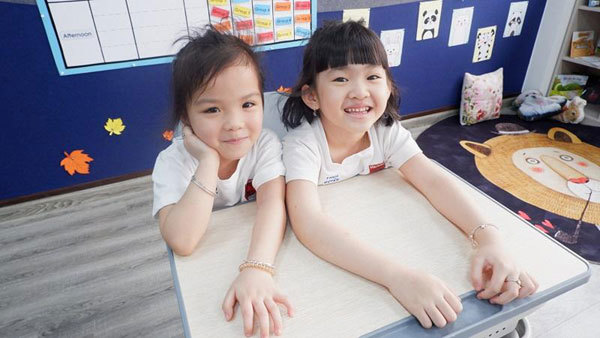 Build knowledge with leading education experts
In addition to the highly updated English curriculum, the Maple Bear program also offers a local curriculum that complements the Canadian curriculum. This helps parents deal with the anxiety of "the child cannot adapt" and opens up more options for students. Because children will be prepared and highly adaptable to easily transition in any domestic or international environment.
At Sunshine Maple Bear, students can participate in learning and experience activities with leading Canadian experts.
Regular study, experience, and play with foreign experts is very helpful in the process of children learning bilingualism, helping students absorb the language naturally through activities. There, teachers use language as a tool to communicate and teach content, helping children approach a new foreign language similar to how they approach their mother tongue.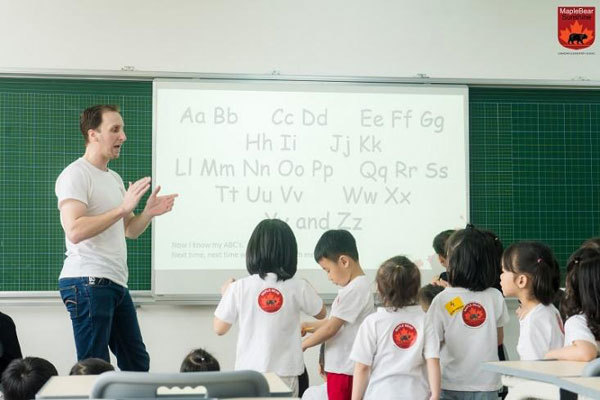 Relaxing and modern learning space All teachers are trained, receive copyrighted textbooks and lectures, and are equipped with standard-appropriate teaching aids. To ensure Maple Bear's high educational standards are maintained, administrators and appraisers of the global Maple Bear system conduct accreditation visits each year at the school. The visits are to evaluate and make timely suggestions to further improve the quality of training and teaching of teachers..
Friendly and inspiring learning environment
Many parents when visiting Sunshine Maple Bear International Primary School shared their impression of the green and close-to-nature learning space. Each campus is designed with relaxation corners, giving teachers and students a feeling of comfort after stressful hours.
The project has an area of ​​over 5,000 m2, including 5 floors and a basement, integrated with many utilities such as experimental garden on the roof, canteen, kitchen, medical care area, multi-purpose classrooms… serving the comprehensive development of both physical and intellectual, life skills of children.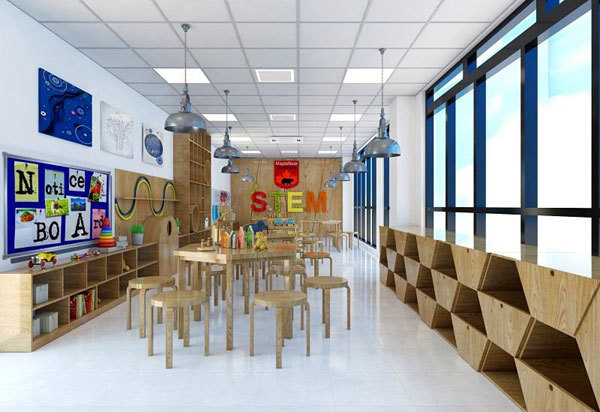 All equipment in the classrooms, students' learning tools, or function rooms are arranged and designed according to Maple Bear Canada's strict standards to help parents feel secure.
Not confined to theoretical lessons, students of Sunshine Maple Bear always feel relaxed and comfortable every time they come to school with interesting learning projects. Here, children are encouraged to be creative, learn what they are passionate about, are "right to be wrong" and experiment with ideas from existing experiences and knowledge to draw lessons…
Not only feel the safety and love from teachers and friends, more importantly, children always love going to school and are ready for the next experience.
Ms. Nguyen Thi Huong – parent of Huong Thanh student, who joined the Luggage Club for Grade 1 at Sunshine Maple Bear International Primary School said: "I have only joined the club for 2 sessions, but I am very proud. I'm excited to meet new friends, learn English, and learn to dance. I am bolder and more confident when I know a new language and often express positive emotions.".
On May 11, 2019, Sunshine Maple Bear International Primary School will welcome parents and students at the "Opening Day" event. This is considered a bridging event, allowing parents to visit for the first time the system of facilities and exchange two-way information about the program and modern learning methods. In addition, students will be able to satisfy their hyperactivity and personal interests when participating in experiential classes in music, science and movement.

To welcome the new school year, Sunshine Group sponsors a scholarship fund for the first students entering the 2019-2020 school year. The total value of the scholarship fund is up to VND 64.9 billion.

Parents interested in the international learning model can register to participate in the event tại đây.

Hotline: 090 154 6655

Fanpage: https://www.facebook.com/SSMB.ElementarySchool/